Rise of the Dragonfly is a Christian-flavored young adult contemporary fantasy series that follows the spiritual and emotional journey of Abigail Palmer as she comes of age. The first book, Mask of the Dragon, was released in 2016. The second, Path of the Dragon, followed in 2017. The third, Heir of the Dragon, is still a Work-In-Progress, as its development fleshed out minor details in the first two books which will be corrected in future editions.
Genre: Young Adult; Contemporary Fantasy
Setting(s): Columbus, Ohio USA
Installments: 3
Created: 2006-2015
After the death of her Catholic parents at age six, Abby is raised by her mother's Protestant aunt. She copes with the loss by clinging to her imaginary friend, a dog-sized dragon dubbed Dominic. Concerned, her great-aunt takes Abby to a psychologist, which leads to Abby keeping his existence to herself. By age sixteen Dominic's taken on a life of his own and Abby's no longer sure he's imaginary at all. Finding out the truth will change her life forever.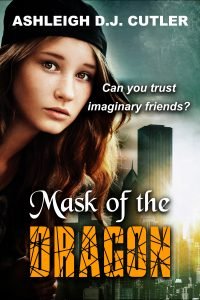 Book 1: Mask of the Dragon
In the wake of her parents' deaths, six-year-old Abigail Palmer clung to her imaginary friend. Ten years later, the dog-sized dragon, dubbed Dominic, is still her constant companion. Though she would never admit it out loud and risk a second round of therapy. She knew his behavior was just a reflection of her feelings, private or otherwise. She was in complete control.

At least, she used to be. Now, she's not so sure.

Because imaginary friends can't save your life. Right?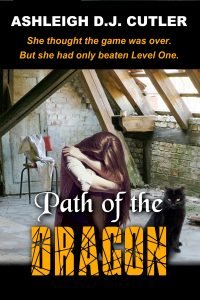 Book 2: Path of the Dragon
It has been two years since Abigail Palmer unmasked her imaginary friend. Still terrified her past might repeat, Abby told no one what she found behind Dominic's behavior. Not even her best friend-turned-boyfriend.

Naming her kitten "Domino", she feels safer speaking with the supernatural that shadows her. Just as she starts to find her balance in the new life she finds herself in, the new "Dommy" is used to out the truth to her boyfriend.

And that might be the scariest thing she has faced.
Mask of the Dragon was concieved after watching various shows on the paranormal and reading online articles on imaginary friends. According to these sources, an imaginary friend was likely to be more than just make-believe. Possibilities included a ghost who may or may not have the child's best interest at heart, the child's guardian angel, or a demon seeking to endanger the child in some form. As a writer, I have many "imaginary friends". The only thing scarier than the possibility they're "real" is a wasp nest. I might not have complete control of some of them, but what little I have I will take over a supernatural being playing mind games. But what if that was true?
After creating a cast of characters and a rough plot, I tried to write the story. My main characters were a human girl, her imaginary dragon friend, and the duo playing puppetmaster with the dragon. I focused less on the supporting cast and more on the consequences of an imaginary friend being a mask worn by the supernatural. That might have been why I got three chapters in before I snagged. And because I use "a girl and a dragon" far more in my stories than I should, I tossed the notes and drafts into a computer folder to be dealt with in the future and went back to my other ideas.
October of 2015 found me discussing National Novel Writing Month with what became one of my editors. I ran down the list of "still not written" ideas I had. For whatever reason, "Mask of the Dragon" stuck out to her. I decided why not? "Mask" was not at the time connected to anything else. If it flopped again, it flopped. So that November, my deviantART account saw a chapter posed almost every day. I didn't "win" since my computer crashed and locked a chapter up until I could get a hard drive adaptor, but on December 1st, I finshed the first draft.
PUBLICATION AND "SPIN-OFFS"
I chose to "self-publish" Mask of the Dragon. I could have shopped around for a "real" publisher, but at thirty, I was quite tired of waiting to reach my goals. I hired two editors to assist in preparing the manuscript. During the editing process, two more books were conceived. I purchased covers for the series from SelfPubBookCovers.com. Mask of the Dragon was released at the end of May 2016. The sequel, Path of the Dragon, came out the first week of June 2017. The third, Heir of the Dragon, is slotted to be my NaNoWriMo project in November 2021. It will be the end of Rise, though likely not the end of Abby. There are companion series planned, but that is still too new in development to be discussed at this time.