Prices are in USD unless otherwise noted.
Any sketch digitally outlined in back, saved as either a transparent .png or a .psd file. Great for those without a drawing tablet.
I will color any line art or base to your specifications. Can be used with the inking service.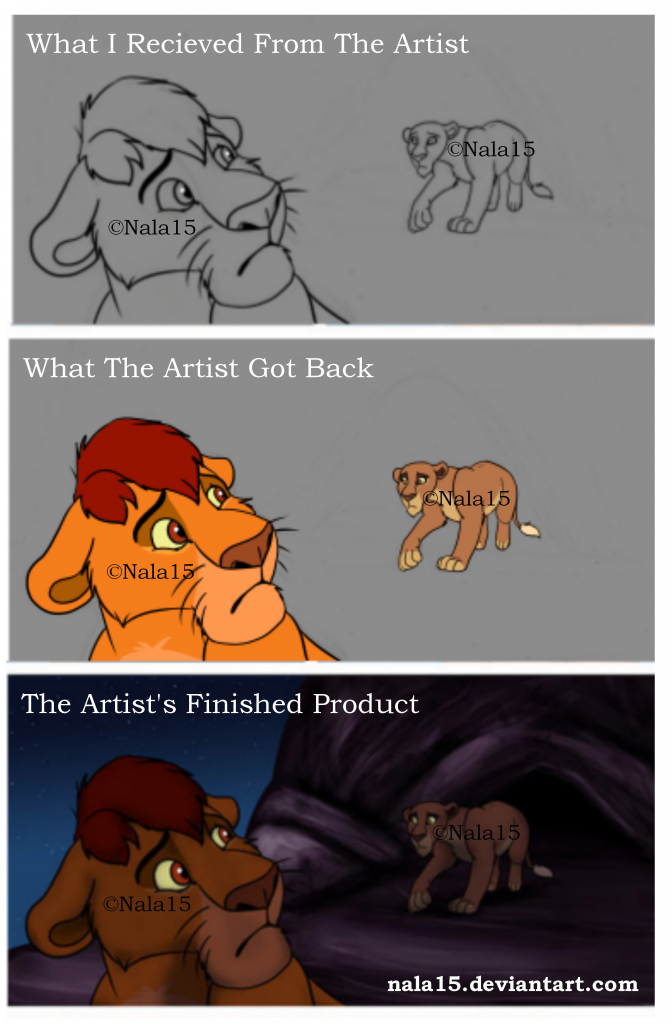 Flat colors for all characters and objects on one comic page, max nine (9) panels and four (4) characters or objects per panel. Additional characters or objects $.50 each.
A mid-range detailed background. I use brushes and references.
Default Sizes:
1600×1200, 1920×1080 pixels
Larger sizes will take longer.
1 subject with a transparent or single color background.
2 subjects against a stock background.
2 subjects in an original background.
Additional Subjects – $5 each. Limit 5.
Detailed Design Charge – $3. An add-on charge whenever a character's design is complicated enough to double usual time spent.
The final image belongs to the purchaser. They may use it however they wish – even sell it. I keep only the right to post the image to my online galleries as an example of my work. I don't insist on being credited as the artist, but I appreciate it.
Please supply references when ordering a commission. I need something concrete to go on. A full body, flat color reference works best for characters. References for poses and settings can be as simple as a stick figure sketch or photos edited together. I only need character references for "Your Character Here" commissions.
Your order must include all specifications when placed: directions on poses, colors choices, the number of characters and anything else of that nature.
I send updates via screenshots of progress through various direct communication methods. My primary methods are Discord or GoogleHangout DMs, DeviantART notes or chat, and email.
The final image will be a single layer .png, unless you have requested the .psd or other files as well. After a year or more, the .psd may be destroyed when I clean out my files.
I am upfront about my deadlines, and will usually deliver in half the time I give or less. I simply overestimate to give myself breathing room. The more detail you want, the longer it will take.
Please realize these are guidelines for commissions only. What I draw for myself is another matter. I am not going to be bound by these guidelines should I choose to step outside them in my own work. What I will and will not do may be added on to at random. If I cannot draw something to my commission standards, I will tell you when you inquire. Thank you.
I Will NOT Create or Work On:
Propaganda. I refuse to promote any side of anything, thank you.
Hate Art. Any piece that promotes hate of any kind will be rejected.
If you use artwork I have created for such purposes after purchase without informing me, I will refuse to work with you again. 
Machinery. I am not skilled enough at this time to draw machines to my standards.
Automobiles. Likely falls into the same category as above, but cars, trucks, motorcycles are all outside my skill-set right now.
This does not apply to Ink or Color commissions.
Anthros/Furries.
Animals. I am most skilled with canines and felines.
Any Romantic Partners. This means straight, gay, poly, etc. 
NSFW (Not Safe For Work). This excludes any and all forms of child pornography.
I accept deviantART Points and PayPal.
Full payment is due after the commission is finished, but you are welcome to pay in advance.
Anything over $5 or extremely detailed, a deposit of half is due after sketch approval, and the rest once it's finished.
After payment, the file will be sent to you via one of the options above. All choices are free.